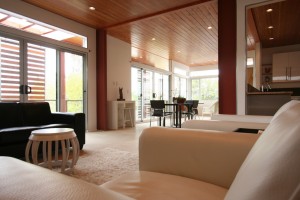 You spend a lot of time in your home. I imagine you use your home much like we use ours. It's home-base. Your home is a safe-house from the traffic, rush, and clutter of the outside world. It's a blank slate you get to clean, paint, and decorate as you see fit. Your home is an expression of yourself. Do you like your home? Is there something you don't like? We know you said yes. Chances are there will always be something in a "cookie-cutter" designed home that you don't like. Stop staring at it. That won't make it go away. Call us. We are home builders in Utah County. We also do remodeling. We can handle the big projects you don't think you can do yourself.
Is there a wall between you and your kids? Knock it down. Do you like those plasticy counter tops? Replace them. Don't you think a splash of cantera stone would look good around the fireplace? We do. Take a look at what you don't like and give us a call. We can help you find an affordable and classic finish for your home. After all, this is where you live. Live in beautiful spaces.
Remodeling is cheaper than building a custom home (we can help with that too!). We want you to go to bed at night and not think about that toilet downstairs that doesn't work unless you lift the drawstring inside the tank. Much less the chipped wood floors in the upstairs guest room.
It is time you took control of your pallet. You are the artist here. Get out your brush and paint! Let's fix up this old clunker until it's a classic. We want you to be proud to have your friends and family over for dinner.
Bring us your plans and we will help you. We know about how much it will cost to put mahogany book shelves in the wall. We can help you get started.
Make your home how you want it. You spend far too much time there to not make it your own. Live in beautiful spaces and work with Cloward Construction!